By Rafael Mercado, DDS on July 30, 2018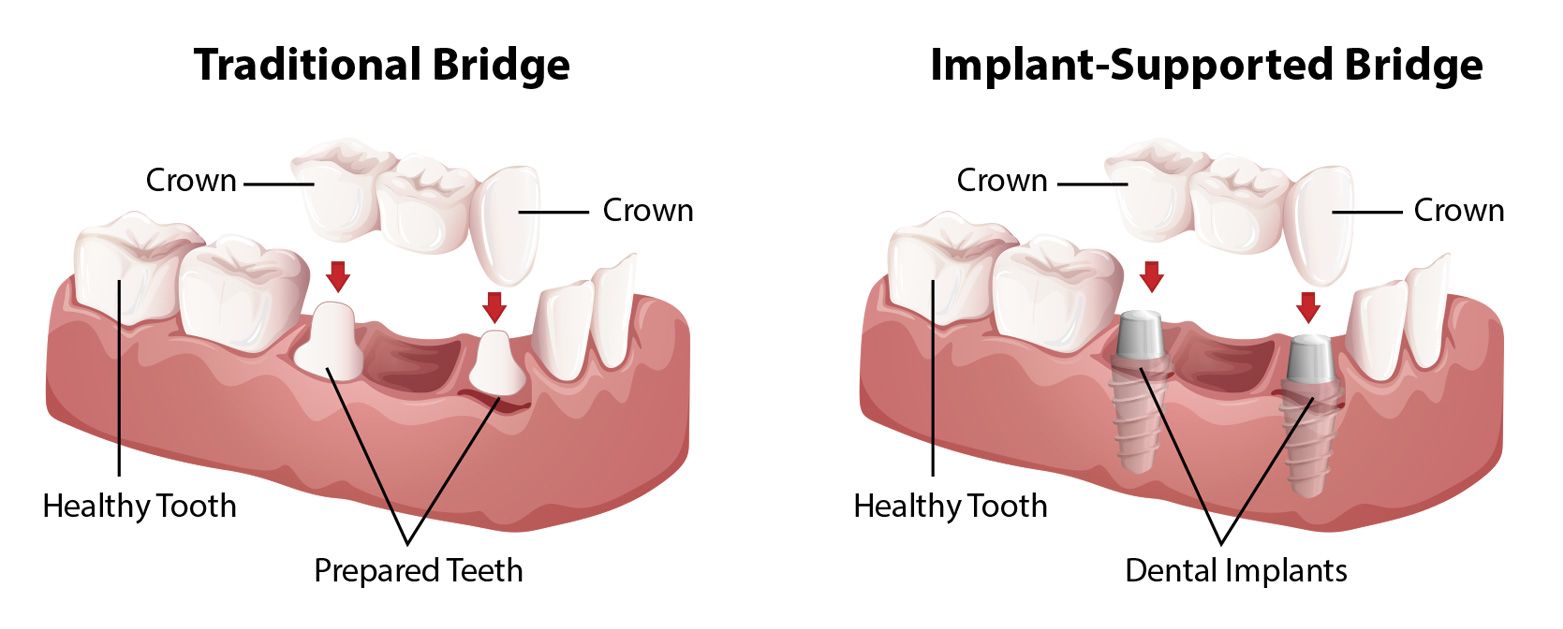 If you are missing a tooth or a few teeth, it can have a negative impact on the appearance of your smile as well as your dental health. Thankfully there are many options for treating tooth loss at our Castle Hills, TX dental practice. Both traditional dental bridges and appliances supported by dental implants are excellent ways to treat missing teeth.
We'd like to take a moment to compare these treatment options, considering their advantages and disadvantages. The best way to learn which option is right for you is to stop by the practice for a consultation.
About Traditional Dental Bridges
Traditional dental bridges are removable appliances that are used to replace a single missing tooth or multiple missing teeth. These types of bridges are held in place with brackets that latch around the teeth adjacent to the tooth gap.
The Procedure for a Traditional Dental Bridge
A dentist first takes an impression of the tooth gap and the teeth next to the gap. This impression is sent to a dental lab, which custom crafts a bridge just for the patient. The bridge is sent back to the dental practice where the dentist can make fine adjustments to the fit if necessary. It's as simple as that.
The Benefits of a Traditional Dental Bridge
The primary benefits of traditional dental bridges include:
Restored ability to bite and chew many foods
Natural-looking design and durable craftsmanship
Easy to clean and maintain
An affordable option after tooth loss
About Implant-Supported Bridges
Implant-supported bridges are appliances that are secured in place with dental implants. Dental implants are artificial tooth roots that are surgically anchored into the jawbone and gum tissue. This means a much more secure hold than traditional bridges. The appliance is unlikely to come lose even when chewing difficult foods like corn on the cob.
The Procedure for an Implant-Supported Bridge
The crafting of the bridge itself is just like the procedure for the traditional bridge. As for the dental implants, oral surgery will be needed to screw the implants into place along the jawbone. During a months-long healing process, the implant will fuse with the bone tissue. This is known as osseointegration.
Only when osseointegration has been completed will the dental implants be ready to support the bridge. This can take several months.
The Benefits of an Implant-Supported Bridge
The key benefits of implant-supported bridges are:
Extremely strong hold thanks to the dental implants
Dental implants prevent bone loss and gum recession in the tooth gap
Exceptional restoration of bite strength
We should note that implant-supported bridges are much more expensive than traditional bridges given the oral surgery involved. Many patients feel the results and benefits justify the expense, however.
An Additional Option: A Fixed Dental Bridge
In addition to the removable bridge and the implant-supported bridge, it is possible to have a fixed dental bridge. These kinds of bridges have a dental crown on each side of the false teeth. The crowns cap the natural teeth on either side of the tooth gap for support.
This option is a bit like a middle ground choice. It is more secure than a traditional bridge, though not as stable as dental implants. In terms of cost, this fixed bridge is more expensive than a removable bridge, but much less expensive than an implant-supported bridge.
Contact Castle Hills Family Dental
To learn more about treating tooth loss and restoring the health of your smile, be sure to contact an experienced cosmetic and restorative dentist. We look forward to you visit and discussing these matters in greater detail.